Our blog has been up and running for several weeks now, so we thought it was time to tell you about our Facebook page, Twitter account and YouTube channel.
The new Withings Facebook page



With the release of our Blood Pressure Monitor and the imminent launch of our Baby Monitor, we decided we needed to create a new Withings Facebook page that was dedicated to our whole range of products.

By becoming a fan of the page you will be the first to find out any news regarding our Withings products. You will be able to share advice on health, well-being and sports with our community. You will also find videos introducing our products, competitions, deals, user reviews and expert advice. So, if you're not already a fan… what are you waiting for? All you need to do is click on "Like" in the Facebook box which is on the right hand side of this blog or you can go directly to our page. You can also comment on our status updates and offer your own suggestions (however crazy)! There's absolutely nothing stopping you, we would really like to hear from you and be able to share experiences with you.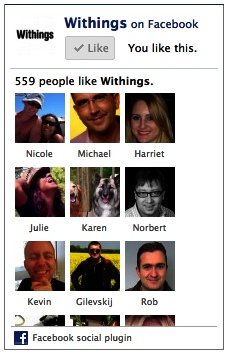 The integration of Facebook into this blog doesn't stop at the fan page. You can also share your favourite blog posts with friends by simply clicking on the button "Like" at the end of each post.





A Twitter account more active than ever before



In addition to the Facebook page, a few months ago we also created a Twitter account. I'm not sure if you use this great micro-blogging service, but if not I really recommend you have a look at the Wikipedia page or this video "Twitter in Plain English" by Commoncraft to find out more about it.

What makes Twitter so great is that you can share and receive information in real time. By following our account you will find up-to-date information regarding Withings but also important news on topics such as health, well-being and sport. So feel free to follow us share your suggestions and maybe even "RT" us 🙂 We would like to share ideas and experiences as much as possible on Twitter!

You can also "tweet" your favourite Withings blog posts to your followers by clicking on the "Tweet" button at the end of each article. Your friends will definitely be impressed by our grasp of social media! 😉



The YouTube channel



You'll find all our Withings videos on our YouTube channel. What you might find particularly useful are the tutorials which help you get the most out of our products. I recommend you have a look at this video if you would like to know how to share your blood pressure recordings with others using the Withings BPM, or this video would be helpful if you'd like to know how to create a Withings account. You can also write comments about our videos and offer your own suggestions. We would really like to hear from you about your experiences and insights.

I hope that you will all come join us on these various networks we created for you. Feel free to join us, "Like" us, comment on our Facebook posts or even #FF or #RT on Twitter from time to time. We definitely won't hesitate to do the same back 🙂