We are so proud to announce our new partnership with this fantastic app for iPhone, iPad and iPod Touch which lets you track your weight and Body Mass Index on a daily basis. This app is a real phenomenon with close to 1,000,000 users. So now you can synchronise your Withings Body Scale with this partner app in a click of a button and import all your data from your Withings account.

Target Weight's strengths

Tactiosoft who developed Target Weight wanted to make tracking you weight and managing your targets much simpler. Like the Withings app and the apps of our other partners such as Libra for Android, TargetWeight lets you track your weight on a day-to-day basis helping you to achieve your weight goals. It's also really easy to use thanks to a straight-forward and intuitive interface. TargetWeight opens up a personal weight dashboard with everything you need to know, including your height and weight, your Body Mass Index and of course your target weight and the date at which you'd like to achieve that target. The information appears in a graph which updates itself each time you enter another weight or set a new target. So it's now even simpler to track your development, stay on course and reach all your goals!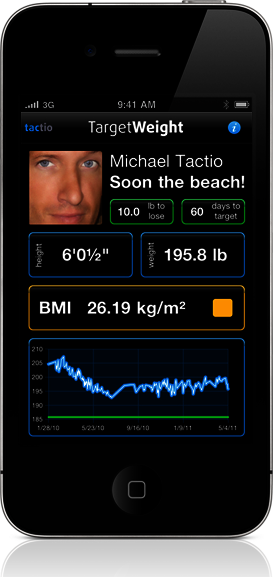 Home page on the Target Weight app

An added bonus: even when Target Weight isn't running, its launch icon on your home screen lets you know how many pounds or kilograms you need to gain or lose to reach your target weight, as you can see below.

Example: this user has 9 kilograms until he reaches his target weight

Target Weight is available for the iPhone, iPad and iPod Touch in English, but it's also available in French (PoidsCible) and Spanish (MetaPeso).

How to synchronise Target Weight with your Withings Body Scale

With the latest version of the Target Weight app, you don't need to enter your weight manually any more: the Withings Body Scale does it for you! Version 1.9.32 of the TargetWeight app offers a seamless integration with your Body Scale and your Withings account: connection, import of your measurements and automatic weight updates.

To synchronise your Withings Body Scale, you just need to click on the information button on your TargetWeight home page (this is the icon 

at the top right hand corner of the home page), then under the menu "Connected Health" you tap on "Withings Body Scale Setup". You login using your username and password from your personal Withings space. It is important that you remember to leave "Auto update data" on; this way the measurements from your Body Scale will be automatically uploaded every time your launch Target Weight. Click on the button "Connect", then select your profile (if there is more than one user for your Body Scale) and finally press on the button "import" and you're sorted! If you're still a bit unsure, Tactiosoft have some error-free instructions with pictures.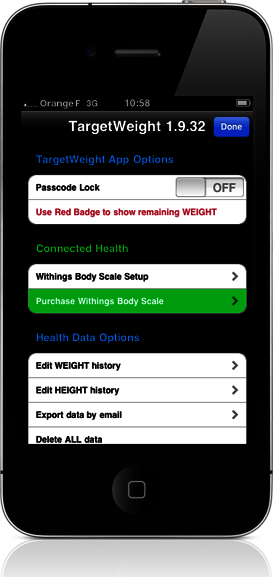 Screen for synching your Withings Body Scale

We love this app, and highly recommend you download Target Weight so you can make up your own mind. And, as ever, feel free to tell us what you think in the comments below.
Screen for measuring your BMI and discovering your BMI category
Screen illustrating your weight measurements and your target weight