Withings' CEO Cédric Hutchings was invited to speak last week at the panel "e-Health – the issues of trust and self-reliance" during the French entrepreneurs' association summer campus. The panel focused on how to design connected devices to help handicapped or elderly people become more autonomous, decreasing the need for them to move to special facilities and allowing them to stay at home longer while securing the transfer and storage of their health-related data.


Also present on the panel were Mr. Giovanni Ungero from Legrand (home appliances and consumer electronics), Mr. Thierry Zilberberg from Orange (provider of consumer and corporate telephone, Internet and data management solutions) and Mr. Pierre Boiron, representing the regional administration in charge of overseeing health-related information services. The panel was hosted by Mr. Didier Hoch, in charge of health issues at the French entrepreneurs' association.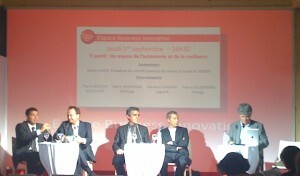 Among other things, the panel discussed the difficulties of implementing e-health solutions on a national scale. While the improvement on the service offered to the patient is clear and fairly easy to demonstrate, the financial benefit is much harder to quantify, since e-health represents an investment that will be paid off in expenses-not-made later along the road. This difficulty to estimate future savings makes it hard to attract the attention of public decision-makers and convince them to invest into those new solutions.

Cédric Hutchings suggested that companies should not focus on making their offers attractive to the government and other large entities, but instead focus on the consumer's demand for such services and tailor their products to fit the expectations of individuals rather than institutions, with ease-of-use being perhaps the most important feature. He pointed to Withings and others successful development of connected medical devices made for consumers rather than professionals as evidence that this approach is viable and immediately applicable.

Still, the panel concluded, public involvement remains a necessity in most countries since medical acts and practices are strictly regulated everywhere. With the emergence of e-health, new treatment options appear for doctors. To become mainstream, they will need to be precisely defined, taught and of course given proper retribution.