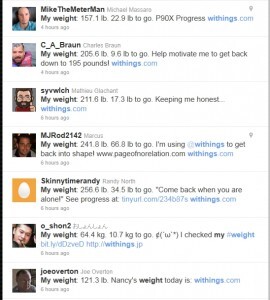 Both the Withings scale and the blood pressure monitor give their users a large range of options to share their measurements with their family or with professionals, such as doctors or sporting coaches. The scale however goes beyond that with social functionalities that allows you to also share your weight and body composition measurements with your friends, or even with complete strangers through outlets such as Twitter (by connecting your Withings account to your Twitter profile on the web interface) or your blog, thanks to a widget also available on My.Withings.com.


While it's clear that those functions are not for everyone, if you type "Withings" on Twitter's search bar, you will see that quite a lot of people have already chosen to share their weight with others. Today, we ask a few of them why they've decided to make their weight data, private by nature, available to a larger public.

Nathan Finch, for example, has opened the blog Weight of a Man in June 2011 to chronicle his weight-loss journey and his efforts to improve his fitness. He explains why he did it: "I love technology and web sites as a web developer. I decided to integrate technology into my journey like websites, the Withings scale, and a Fitbit. This would keep me interested because it is something interesting to me". He describes his blog as a "sort of accountability" to himself, explaining that "If I don't post, they will get on my case and if I did not have this site to post my updates, I would have no one checking in on my progress and I could just stop without having anyone nag me."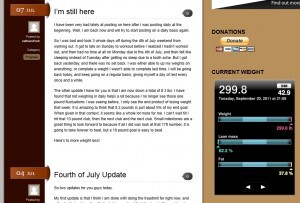 Accountability is also the main reason given by James Gagne, who tweets his weight on @fitterzone : "posting my weight, activities and thoughts on Twitter immediately holds me accountable to all those who follow me or stumble upon my posts. […]I chose the name Fitterzone for my my twitter account to reflect the action of stepping out of my comfort-zone into a Fitterzone"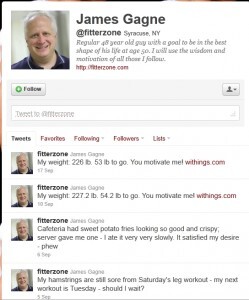 Of course there is more than just accountability to find in social media. To seek support is another reason to share his goals with others. Indeed, James Gagne feels that "The Twitter community has been supportive, and reaction from my family and friends vary from shocked that I would share something so personal, to impressed with the effort I've put into it".

Self-motivation and support are two important things that people seek during a weight-loss journey, and new high-tech tools can help in both respects. Nathan Finch mentioned that he uses the FitBit tracker as well as the Withings scale (which he has also connected to his LoseIt! account), and how they have changed his personal relationship to his body: "I feel the scale helps me with accountability just as much as my site does. It keeps me from lying on my weigh-ins saying I'm lower than I am. My weight is up in seconds, and people will see it seconds later. I also want to weigh in more often just because this scale is just so cool. I love that it tells me my lean mass % and BMI right on the scale. And even though the lean mass % is not 100% accurate, over time it has given me a great idea of where my muscle is going and how long it will take to get there. I don't think I would be at the same position I am now if I did not have this scale to help me out." James Gagne agrees, saying that "The Withings scale really does help me focus daily on my goal to gain muscle and lose fat".

Everyone have their own way to keep fit, and you don't have to be engaged in a weight-loss program to feel like you want to monitor your weight or other health indicators. How do you motivate yourself to stay fit? How do you feel about sharing personal health data with others outside your family circle?