Withings just launched a new Facebook quiz contest with cool prizes up for grabs!
The prizes you can win if you give the correct answers are: Three Bedside Sleep Managers and five Mobile Sleep Managers, all made by our partner Zeo.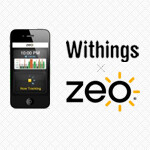 You have until February 20 2012, 5 pm (GMT+1) to visit our Facebook fan page and test your knowledge! Go ahead and try your luck!

Susie Felber
Susie is a writer, comedian, and producer who has worked in TV, film, theater, radio, video games, and online. As the daughter of a hard-working M.D., she's had a lifelong interest in health and is currently on a personal mission to "walk the walk" and get her writer's body in better shape.
View all articles