iPhone app able to detect tremors associated with Parkinson's disease
A doctoral student at Arizona State University, Department of Biomedical Informatics (BMI) is currently developing a customized app that will be able to detect tremors associated with Parkinson's disease. In order to use the app, a Parkinson patient simply has to either hold the smartphone in their hand or to touch the device to their ankle for 30 seconds and then tap the screen. This allows the accelerometer, which can be found in the majority of smartphones on the market today, to record movement.  The application can then transmit the information to the patient's doctor, so that he can log in and review the measurements.

A social platform designed specifically for teens with autism
Launched in January, Squag is a highly secure website where autistic children can express themselves, work on their ideas and communicate with their parents and peers. Once a parent registers and is approved to be part of the community, their first task is to set up their child's Squagpad, a virtual room full of photos, videos, music and notes. Parents are the first to post positive messages for their son or daughter to see when they arrive in their room, but the children themselves can also create their personal journal to write down their thoughts and feelings. Users are also offered a small group of other members to connect and talk with.



The Caring MR Suite enables patients to customize their hospital environment using an iPad
An MRI scan can be a really uncomfortable experience for a patient. Thankfully, mobile technology is increasingly being used to improve unpleasant medical procedures.  An American-based company, called PDC, has developed the Caring MR suite which employs the iPad to enable patients to customize their hospital environment. Before entering the suite, patients can personalize the suite's lighting, music, images and video using a pre-programmed iPad, or even bring their own audio-visual content on an iPhone, iPad or iPod.



Sanofi launches iPhone diabetes monitor and app in UK
There are already many mobile devices that allow diabetes patients to monitor their blood glucose levels but the iBGStar claims to be the first blood glucose monitor to sync with the iPhone. Using a specially-designed application, patients can enter their data, visualize their results in charts in order to identify blood glucose patterns over time and add further information about their measurements. Sanofi is now considering producing an Android version of the device.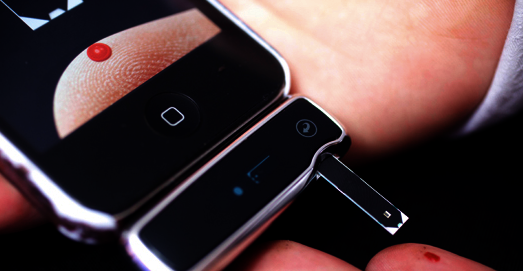 Oxford Nanopore builds USB device that can sequence DNA
The device, called MinION, is already considered to be a game changer for field researchers as  it will soon allow them to have a complete DNA sequence in a matter of minutes and at any time, simply by putting a handful of cells into a small container built into the USB drive and plugging it into their laptop