More and more hospitals and doctors are using the iPad and other smart devices to stay in touch with their patients and monitor their condition post surgery. Today, we will discuss some of the most notable initiatives!

Surgeons use FaceTime to provide post-op consultations
Henry Ford Hospital, the well-known high-tech hospital which in January 2009 became the first one to live-tweet surgery , is now initiating another m-health innovation: "telerounding". The hospital provides an iPad to its patients and surgeons so that the doctors can make their rounds through video calls, in an effort to improve and facilitate patient-doctor communication in times where the surgeon cannot be physically present. This method fills a critical need for doctors who perform operations at more than one hospitals or travel often to operate in different cities. In addition, by replacing a classic phone call with a video-chat, patients are able to have a more personal and confidential conversation and surgeons are able to actually see their patients and get a better sense of their condition.



Using iPads for post-op orthopedic follow up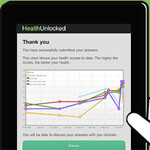 iPad use in post-operative health care does not only exist in the US though. The British Department of Health is actually conducting a trial at the Royal National Orthopaedic Hospital (RNOH) in London of a system that measures the effectiveness of spinal surgery. HealthUnlocked Tracker allows patients to record their progress on an iPad in real time, while still in the clinic, and they can also continue to update their information through an online system after they get discharged. Doctors assume that this system will not only give them live access to information on how patients are dealing with different procedures, but also encourage patients to report more often. What's most important about this project is that a successful integration of the HealthUnlocked Tracker could lead to physicians identifying post-surgical complications, such as infections, quicker than with traditional follow-up appointments.

What does the future hold?
A recent study on a tiny sensor, which can be implanted into orthopaedic patients, was presented at the Orthopaedic Research Society Annual Meeting. This low cost sensor is lodged into a bone fracture and provides real time information on the temperature, pressure, motion, load and strain of a patient. It could become a reliable diagnostic tool and could even eliminate the need for invasive methods or X-rays.

Have you heard of any other use of m-health technologies in post-op care?  What are your thoughts on the subject? Join the conversation in our comment section!