Dealing with diabetes can have numerous impacts on a patient's daily life due to the necessity of a constant monitoring and the insulin dependence. Fortunately technology can become a very valuable ally by helping patients better understand their own patterns and optimize their glucose management. Let's see some of the most interesting mhealth and quantified-self tools for diabetes management.
The app
One of the most accessible, yet most helpful tools, is a self-tracking app. For example, Glucose Buddy is an iPhone app that can be used to manually enter glucose numbers, carbohydrate consumption, medication, insulin dosages and activities. All of these data can then be seen on a free online account and you can even integrate a calorie-tracking app so that your monitoring is more comprehensive.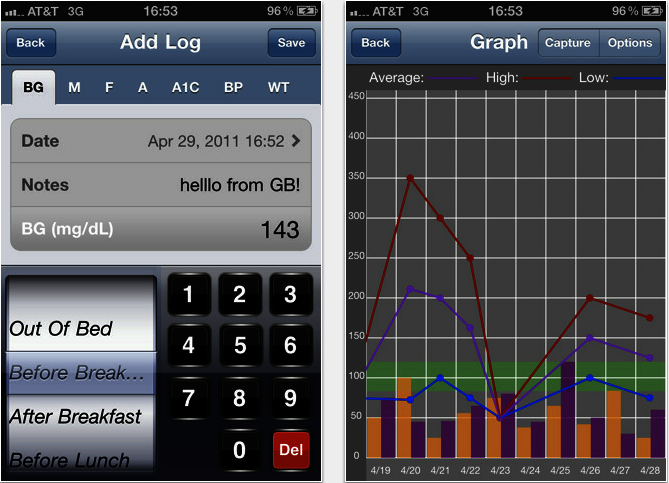 The device
We have already mentioned the IBGStar in one of our previous connected health mash-ups. This mhealth innovation is a comprehensive solution that includes a glucose monitoring device (that can be either used on its own or connected directly to an iPhone) and an iPhone diabetes management app. What's great about it is that it allows you to take accurate measurements everywhere, share your data with your physician or your family and also add comments on your measurements to better classify them.
The life-changing innovation
A research team of the University of Akron in Ohio has chosen to follow a very different path in digital diabetes management. As glucose levels don't rise only in the bloodstream but also in the tears, they decided to work on a special form of contact lens. How does it work? The lens is covered with a chemical substance that reacts with high levels of glucose by changing color. The team imagined a smartphone app that will allow patients to photograph their eyes and easily calculate their blood sugar level.
The quantified self experience
As insulin levels may vary according to many different factors, some patients chose to monitor as many activities and habits as they can in order to better understand their impact on the evolution of the disease. For example, Dan Hon is a man who after being diagnosed with type 2 diabetes (the type that is characterized by insulin resistance and relative insulin deficiency), decided to take the matter into his own hands and understand how his body works in a better and more profound way. By using a Withings Wi-Fi body scale, a blood glucose meter and other mhealth devices and applications, he learnt which factors were influencing his health and he is now convinced that data saved his life! Read his fascinating story here: http://danhon.com/2012/04/28/myself-quantified/
What about you? How do you think mhealth technology could continue to make life easier for diabetics in the future?