Of course what you eat impacts your weight. But so does your level of activity and the quality of your sleep. In fact your general good health depends on a complex equation where weight, activity, sleep, nutrition and blood pressure constantly interact. This is why Withings offers a 360° health tracking solution, embedded in a wide and open ecosystem: to give you the opportunity to get the big picture of your health.
Want to act on your weight?
1. The first device that comes to mind

Stepping on a smart scale regularly and looking at your progress is a great way to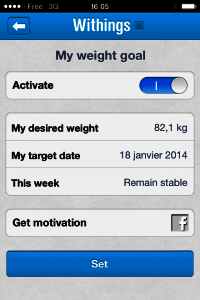 master your body's weight (above all if it gives you body composition). But you can go further!

The first thing to do is to break down your long term weight loss goal into weekly achievable targets. The Health Mate app lets you do it in a few taps.

 

2. The ideal complementary device
Monitor your activity and see the burned calories add up as you move. This feedback loop makes it easier to keep your motivation. The Withings Pulse activity tracker does it seamlessly, thanks to its lightweight design et automated background syncing feature.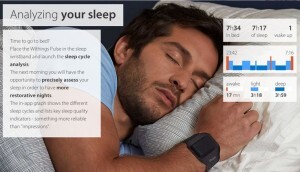 Note that the Pulse also analyzes your sleep, which can be useful when you are trying to lose weight. In fact the lack of sleep and/or poor quality Zzz favor weight gain. Let the Pulse tell you how long and well you sleep, and use the Smart Body Analyzer to monitor indoor air quality in your bedroom.

 

 
3. An app to complete your weight tracking
Want more? Connect to a calorie-tracking app like MyFitnessPal. This way you will be more aware of what you can eat and when you can give in to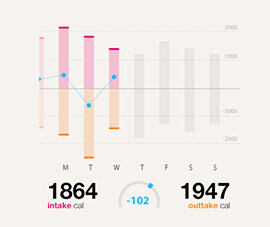 your appetite. The free Withings Health Mate app brings back the calorie equivalent of the foods you enter in MFP and shows you how they match your burned calories.

After all it makes sense to consider all these aspects: your weight depends on a delicate balance between nutrition and activity.

 

 
4. Many partner apps to help you become more and more active
Take advantage of some of our +100 partner apps! Connect your Withings account with RunKeeper (track your workouts and receive guidance from running experts), Fitboard (a workout/diet archiver), or FitTrend (a fitness journal) for example.

 

 
5. One step beyond into the Internet of Everything
You can create causality links to help you lose weight. Sounds geeky? Imagine that "Achieving your weight loss goal" is a trigger. You can easily program an IFTTT recipe that will automatically initiate an action like unlocking your fridge or simply writing down your success in Evernote, when you reach your weight loss goal.
Want to get the big picture of your health…
From a cardiovascular point of view? It's in part 2
From a lifestyle point of view? It's in part 3
From a sleep quality point of view? It's in part 4
Want more? Here are some impressive weight loss testimonials