If you are trying to assess the effectiveness of a health app, you should be able to measure the positive effects seen in those who use it. Still, this would just give you a general idea. How can you know if one of the features of the app was a game-changer, or if it's the subtle combination of functionalities that made it so efficient? Below, we listed 10 "Health Mate tricks" to boost your motivation that you can test. If you haven't already – say, tried setting a reminder, or balancing activity and nutrition – this is an opportunity to get to know Health Mate better. Please give us your feedback regarding these tips, as it will help us further improve the Withings experience.
 
1. Create a smart healthy reminder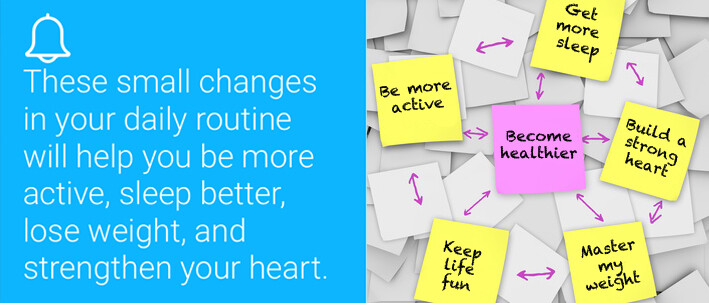 Adopting healthy habits is all about making subtle changes to your daily routine. What are the small steps that lead to the healthier me? Set the relevant Reminders and let the Health Mate app tip you off. Let's say you want to be more active for example. Why not walk when making calls? It will help you add steps to your day while connecting more with your friends and family. Here are a few examples: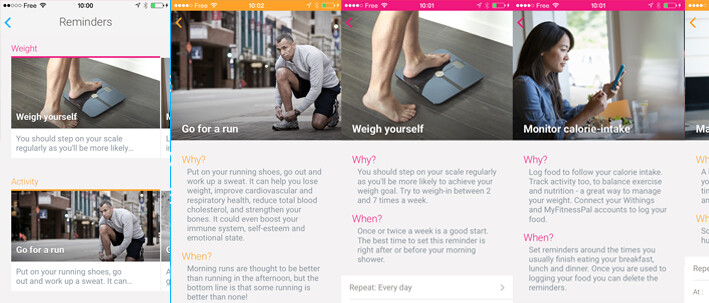 2. Start unlocking and collecting virtual activity badges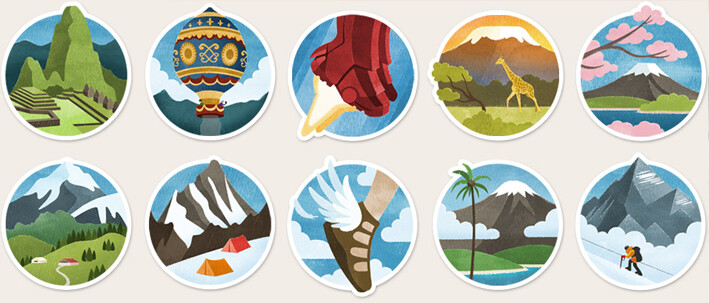 Get into the game and stay motivated with the Withings activity badges. These virtual milestones reward your efforts and push you to excel yourself. Continued efforts will even take you across the world as our Lifetime badges are geolocalized!
 
3. Use the Leaderboard to challenge your friends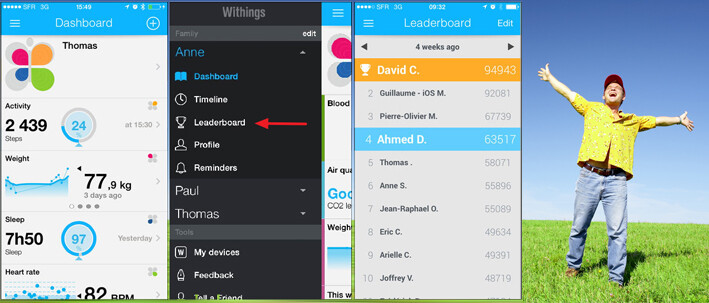 To boost your motivation you may also invite friends to your Leaderboard and challenge them to take the most steps, week after week. Be notified each time your ranking changes and send motivational messages to those who lag behind ("Taunt" and "Cheer"). Anyone you choose to invite will be able to compete: Health Mate offers a basic in-app step-tracking function.
 
4. Pay attention to the daily reports in your Timeline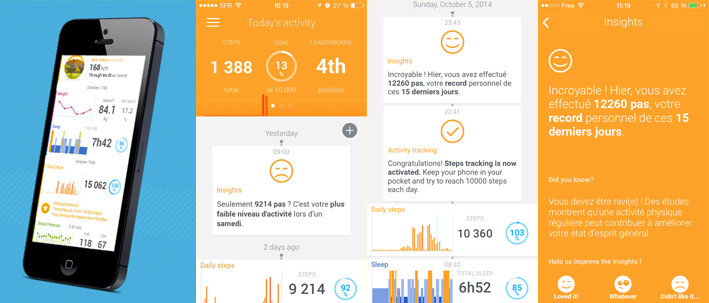 For each new intermediary goal you reach we tell you what the next step is. We believe these feedback loops are the key to behavioral change. Health Mate gradually incorporates a Timeline with daily reports and personalized advice to support your efforts. These insights are sent at the right time to keep you focused and motivated.
 
5. Enter the "Withings Advocates Challenge" Facebook group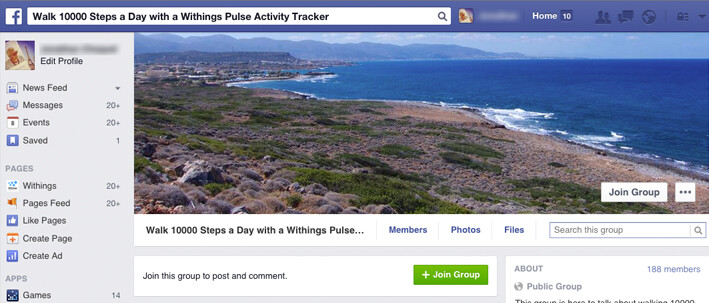 Maybe your friends are not interested in a steps challenge. Or maybe you are way out of their league. In any case, if you are looking for challengers, join this group (created by Withinger Jerry Rocteur) to see how many steps other users of the Withings Pulse Ox have taken. Note that it only concerns the persons who joined the group and exchanged their Withings account email addresses. Updated several times a day, it even features API-generated graphics!
 
6. Balance the calories you eat and the calories you burn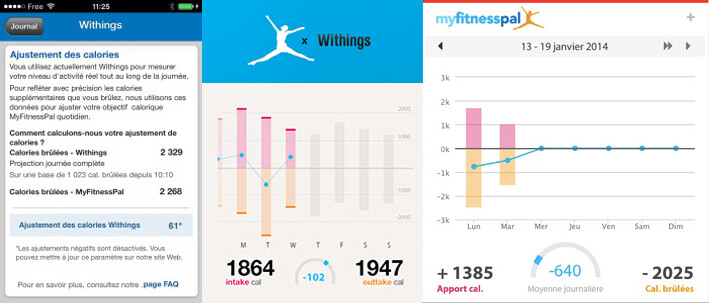 Why not go all the way and compare the numbers of calories you burn with your calorie intake? Beyond the fact that jointly monitoring activity and nutrition is an implacable way to get to a healthy weight, seeing the mathematical equation gives you a real feel of the challenge you are facing: it will boost your motivation. Balance the calories you burn (exercising or simply breathing) with the calories you ingest using the free MyFitnessPal app in conjunction with the free Withings Health Mate app. This feature is popular among users who want to lose weight but are not necessarily ready to increase their activity level.
 
7. Leverage positive peer pressure by sharing your achievements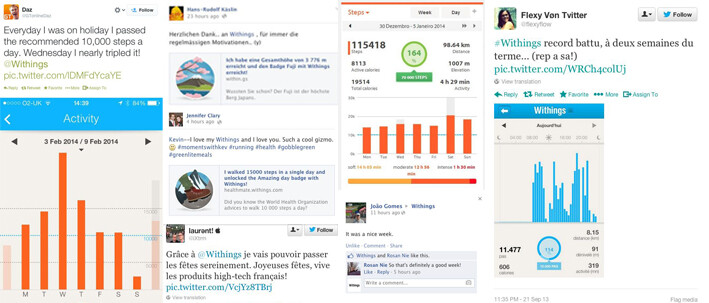 Need help to be motivated? Fearing you might lose your motivation over time? Leverage the "ratchet effect" of posting your goal on social networks and take advantage of the positive peer pressure it will generate. It will be harder for you to give up, as your "peers" are aware of your endeavour. On the other hand, their occasional cheers will surely make you happy and motivate you some more.
 
8. Review your progress so far in the Profile screen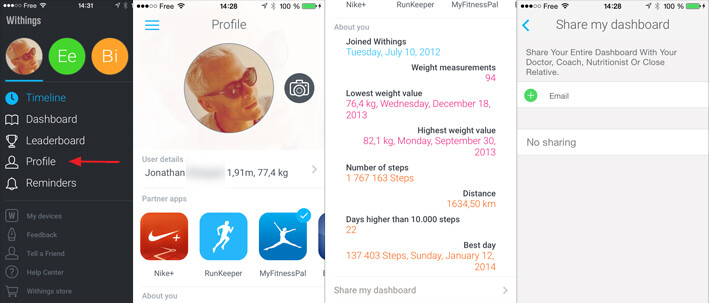 Access the Profile screen by going into the left side menu of the Health Mate app. As you scroll down below your picture,  name, weight and height, you will find key performance indicators such as: the date at which you created your Withings account, the number of times you stepped on your scale, the lowest and highest weight measurements recorded, the total number of steps you've walked, along with the total distance travelled and the number of times you reached the "10k steps/day" goal. At the bottom of the list you will find something to boost your motivation: your most active day!
 
9. Connect your Withings account to Apple's Health app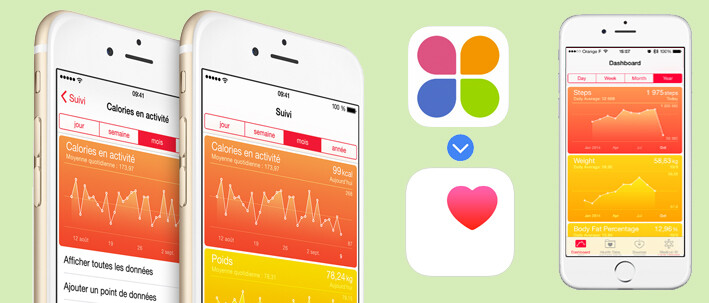 By connecting your accounts you will have more viewing options. You will also have the opportunity to cross the data coming from different platforms/apps. Indeed, this "dashboard of your health" allows many health and fitness apps to work together. Health also creates an "Emergency card" (available from your Lock screen) with important health information (blood type, allergies…).
 
10. Connect your Withings account to the Internet (IFTTT)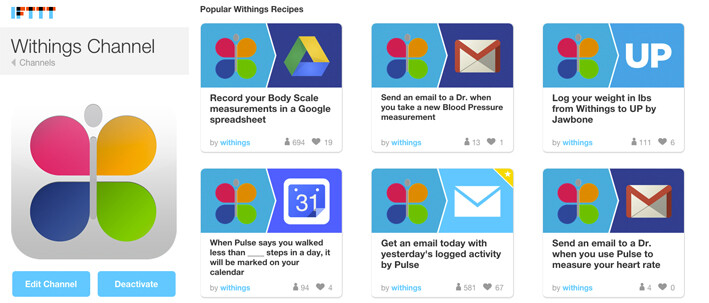 How is connecting your Withings account to the Internet going to boost your motivation? Well… You can thank IFTTT for that. This website allows you to connect dozens of apps, where certain actions are triggered by certain events – all within the Internet of Things. Want to change the color of the lights in your home to blue if you haven't reached your goal weight? (blue wavelengths are known to inhibit hunger) You can do it! Simply link your accounts and pick the corresponding recipe. And if it doesn't exist, you can create your own!
 
Which is your favorite trick among this 10 tricks to boost your motivation?
Please share you insights with the community in the comment section.