We know that sleeping is something that many people struggle with. Especially with the strange winter weather we've been experiencing in the US in 2015, finally unplugging for the day and nestling up under the covers is only half the battle. Then comes the first round of "Shoveling counts as exercise right?" followed by "Why did I eat that second slice of pizza?" and finally the financial stress, "I can't believe how much I'm paying for my heat!" Hopefully with the help of the Health Mate app and Withings devices, you have had an easier time resisting that second slice lately, and have been better able to motivate yourself to be more active.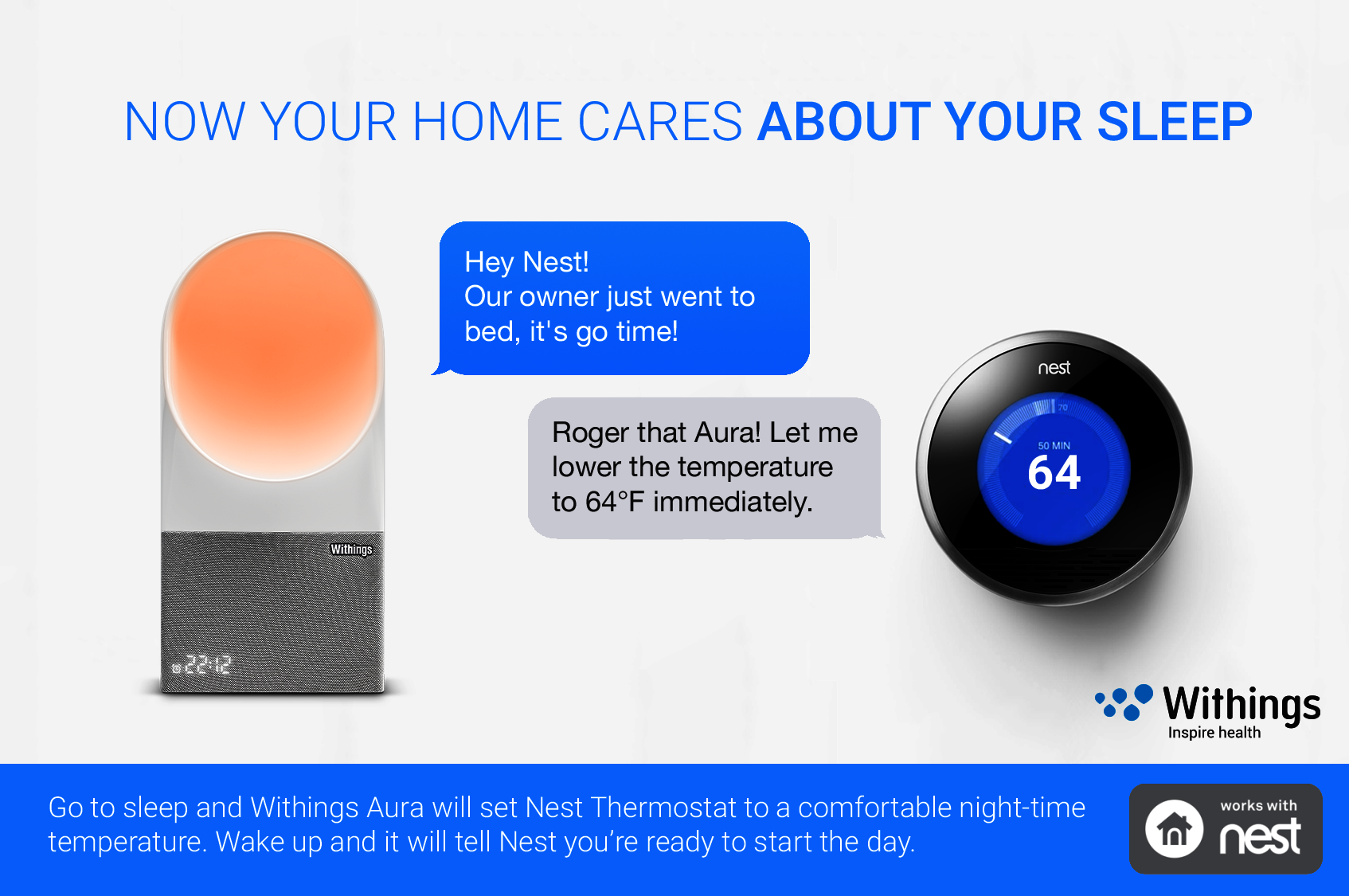 To help with the financial stress, we're happy to say that Aura now Works With Nest, and finding sleep just got a little easier. Say goodbye to outrageous heating bills and hello to the future of the connected home.
If you've been using the Aura for the past few months, you know it recognizes and helps you regulate your sleeping patterns. The Aura is built with innovative technologies to measure sleep quality and room temperature, throughout the night and create smart wake up programs to help you to wake up feeling better refreshed. But why stop there?
Our recent integration with the Nest thermostat allows you to connect two products we know you love. While the Aura helps you catch extra zzzs, this new integration will help you save Gs! This exciting new integration allows users to automatically adjust the temperature of their Nest thermostat to cut heating costs and improve the sleep environment.  
Why it works
Once Aura detects that the user is asleep, it will send a notification to Nest to adjust the temperature in the room to 64 -68° Fahrenheit. This range has been scientifically proven as the optimal temperature for sleeping (
Source
).
Although 64° is a bit cold for lounging around the house during the day, when bundled under the covers, this temperature is perfect for a good night's sleep.
In the morning, when the Aura detects that the user is awake, a notification is sent to Nest to restore the original temperature settings. The automatic wake up detection and temperature adjustment give you one less thing to worry about during your hectic morning rituals.  
How to connect it
You can link your account from Nest's partner page at
www.withings.com/nest.html
or by
clicking here
.  
More than one
You might be wondering what happens if there is more than one person in a bed, or more than one Nest in a home. If there is more than one person in a bed, you will simply choose which "sleeper" or Aura user to link to the Nest activation. If there is more than one Nest thermostat in the home, users will have the option to select, which thermostats they would like to have linked to the Aura.
We hope you're excited about this cool new integration, or at the very least, we hope it will help you to sleep easy.  
Win an Aura and Nest bundle!
For our Twitter fans, we have created a contest to help you win the best sleeping experience. To enter the contest, follow us and RT our message.
And join our contest to win an Aura + Nest bundle! pic.twitter.com/3RXNoz5tBq
— Withings (@Withings) 2 Mars 2015