When considering the existing methods in place to monitor the environment, we can identify three categories: Comfort, Safety, and Health.
In addition to "Comfort" products meant to ensure thermal comfort by monitoring temperature and humidity levels in a certain environment (especially useful in the room of a newborn baby), and "Danger" products which monitor the concentration of certain hazardous gases (carbon monoxide, nitrogen dioxide – mostly related to traffic and faulty heating equipment), there are "Health" products that allow you to monitor the air quality inside your home.
This last category of products correspond to a common daily need: to know when it is time to open the windows and to be alerted when indoor air quality is rapidly deteriorating.
 
How can you prevent indoor air pollution?

CO2 sensors (carbone dioxyde) and VOC sensors (Volatil Organic Compounds) are the two main consumer devices used to control the quality of indoor air, each with their specific characteristics:
The devices sensing CO2 levels give a good indication of the level of pollution (both are more or less correlated), and the need to ventilate. In addition, they provide information on human and animal presence (two sources of CO2!)
The devices measuring VOC levels can identify the presence of certain atmospheric pollutants that have short and long term effects on health. They are also great because unlike CO2 sensors, they can detect a rapid deterioration of air quality.
Withings Home, for a healthier home environment

The Withings Home is equipped with an electronic sensor of Volatile Organic Compounds (VOCs), so you can monitor the indoor air quality and make sure the room is sufficiently ventilated. The app shows you a comprehensive graph showcasing VOCs levels (expressed in PPM – parts per million).
You can also set alerts to be notified of a sudden rise directly on your smartphone, and ask that the Withings Home blinks red when the concentration of VOCs exceeds the maximum recommended level (as in the main picture at the top of this article).
 
What is impacting my indoor air quality?

There are many objects in your home that you may consider innocuous that could be emitting dangerous chemicals. Using cleaning products, old pots and pans, introducing a rug or assembling a piece of chipboard furniture can also cause rapid deteriorations of air quality.
In short, here's why the Withings Home is the best indoor air quality monitoring solution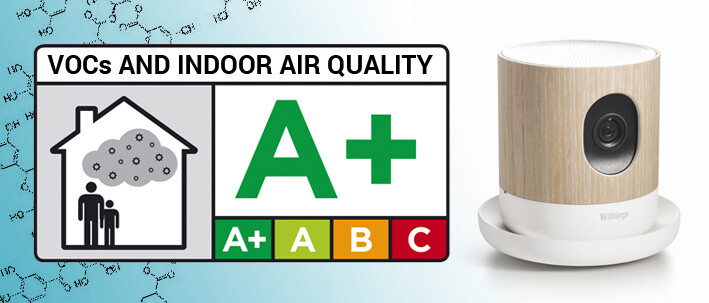 Uses a Volatile Organic Compounds sensor (the most accurate technology)
Monitoring the level of VOCs in real-time.
Free app available on the Apple App Store (Withings Home).
Easy to read graphs with a comprehensive color codes.
Customizable alerts.
Red flashing feature when a rapid degradation of  indoor air quality is detected.
A beautiful object with "health and wellness" features.
The only indoor air quality monitoring device with an HD camera connected to the Internet.
iOS compatibility: iPhone 4S, 5, 5C, 5S, 6, 6 Plus, iPad (3rd gen or higher), iPad mini, iPod touch (4th gen or higher) – Requires iOS 7 or higher.
Android compatibility: coming soon.
Discover the 10 technical specifications that place Home over competition.
 
Discover the Withings Home app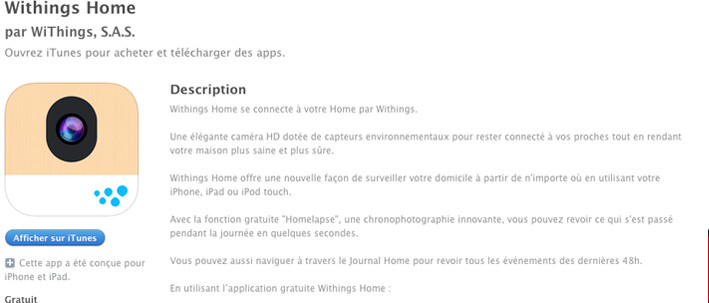 Click here or on the image above.