Stand-up paddleboarding is a genuine craze and the Withings US HQ happens to be less than a block from the Charles River and a PaddleBoston launch. So we trekked down try out paddle boarding for the first time. Was it fun? Does it inspire fear? Find out by reading our report…
My paddle boarding adventure begins
Most days during lunch, a crew of Withings employees head to the gym together to live the "Inspire Health" message and push ourselves to the limit. Erin, our awesome social media manager, is also a personal trainer who often gives us workouts that leave our muscles burning for days. But our content director noticed that we have an office located right next to the Charles River complete with a paddle board rental place. Desperate for exciting new content opportunities, she suggested that I switch up the lunchtime routine by trying my hand at the latest activity craze — stand-up paddle boarding a/k/a SUP. So Erin brought her camera and we set off to hop on a board and attempt to ride the river.
PaddleBoston is just a quick two-minute walk from our office, so we didn't waste much time on the commute. I was given a short quiz about safety on the river (what to do in the event of rain, wind, other boats, etc.) and asked to sign a waiver that indicated I had read all safety instructions and understood the rules of the river. Next, I was given a life jacket and I waited on the dock for a paddle board. At this point, I was pumped! How lucky am I to get to go paddle boarding during lunch, AND have a photographer pal following me around? It wasn't until I was kneeling on the board that I realized how nervous I was. I was told not to stand until I had made it safely past the low bridge (shown in the pic up top), which was sound advice because four feet is tough to clear when standing up.
After a few minutes of psyching myself out while Erin simultaneously snapped pictures and screamed words of encouragement behind me, I was up on two feet and sailing down the river.
Protips from a first time paddle boarder:
Trust your body. When I first tried to stand, my legs were wobbly, but my trusty sidekick Erin told me to "Stand up!" so I did.

Tighten your abs. Tightening my abs helped to take some of the pressure off my legs and allowed me to feel centered and secure on the board. Not to mention the added workout and calories I burned!

Smile. It's a beautiful day and you're out there to have a good time!

Take it all in. I was lucky enough to paddle along the Charles with this view of Boston. I couldn't have asked for a better view, or a more perfect way to spend my lunch break. Why haven't I done this before?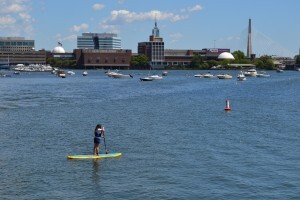 When I made it back to shore, I chatted with Caroline from @PaddleBoston who shared some protips (who, unlike me is a real pro) and some of her favorite paddle boarding memories from four years of working the river activity beat.
Kayak or paddle board?
Caroline: Paddle boarding. Always. Once I tried it, I never went back to kayaking.
Tell me your best wipeout story.
Caroline: One time, my board was floating away from the dock. Instead of using the paddle to bring it back in, I tried to jump to reach. I hit the board and belly flopped into the water. I guess that's why we hold people's boards until they are situated and demand that everyone start on their knees.
Any advice to newbie boarders?
Caroline: Getting up for the first time is all about balance and engaging the right muscles. Make sure to keep your core tightened to help you stay centered. Another thing most people don't realize is that more momentum means better stability, so stay in motion and you're less likely to fall.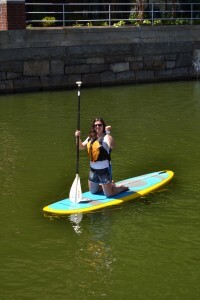 Stephanie models her water-resistant Activité
while on her paddle board adventure
I couldn't have asked for a more gorgeous day. I would totally do it again, and next time, with more friends on board.
Thanks to PaddleBoston.com for the awesome adventure!
Want to know the nitty gritty? Here are the muscles you'll use, the price you'll pay (in Boston) and some things you'll need.
Muscles engaged:
Cost:
$18/hr

$72/day

$1 waterproof bag rental
What you'll need:
License
Method of payment
Sunscreen! We love promoting fun in the sun, but want to make sure you stay safe!
Sunglasses/Hat
Bathing suit. We recommend bathing suit bottoms and comfortable shorts.
Flip flops. You can throw these in your waterproof bag later, but you will want something on your feet before you get on the board. Those docks get pretty hot!
Do you love paddle boarding? Any tips we forgot? Any SUP spots we should try? Let us know!