Interested in indoor rock climbing but don't know how or where to get started? We sat down with an avid climber at a top Boston gym to get the scoop.
Indoor rock climbing gyms are popping up all across the country. As we say goodbye to summer, we want to help you find ways to get active indoors, so we headed to our local Brooklyn Boulders, a/k/a BKB, to get the skinny on indoor climbing and find out about this gym's unique offerings.
BKB now has four locations, and after getting a day pass, shoe rental, and harness rental — you're ready to go. Alex Graziano, the Marketing Manager at
Somerville's BKB
, told us what to expect as a first-time climber. Graziano says, "If you've never climbed before, don't be intimidated. We'll show you how to fall and make sure you're comfortable, a lot of climbers are afraid of heights, so you're not alone. The coolest thing about climbing as a first timer is within a half hour of signing up, you'll be up on a wall, conquering your fears and reaching new heights."
When asked how BKB excelled, Graziano said,
"
We bring together a more eclectic group of people. We have fitness, networking opportunities, movie nights, yoga classes and entrepreneurs working out of the space. You don't have to want to climb… it's really an awesome hub of activity."
To find out more we talked to Sara Evensen, a sophomore at MIT, who has been climbing competitively for a few years. Evensen took a break from the walls to chat with us. Here's our exclusive interview with her: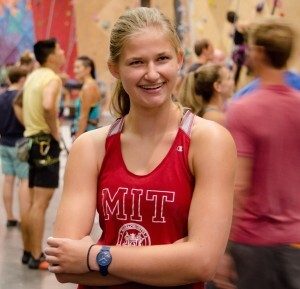 How did you get into climbing?
Trees. Sometimes I like to get back to my roots. But I had to branch out. When I was a kid my mom signed me up for a rock climbing summer camp, but it wasn't my thing. I randomly went back a few years ago and saw an old friend at the gym who talked me into climbing again. I went from climbing twice a week, to six times a week with a coach, and then I started competing.
So you climb competitively?
Yeah. USA Climbing is the national organization that controls competing on regional, divisional and national levels. There are set climbs that none of the competitors have seen before. So it's not aout how strong you are, but if you can figure out how to climb new terrain.
Favorite crag?
Bishop in California is my all time favorite. Farley in Western MA is my favorite around here.
What muscles are most engaged when you climb?
Different climbs engage different muscles. All climbs will engage your forearms, back, arms, quads and core. You need a lot of core strength for climbing.
How do you train to get better at climbing?
In my opinion, climbing is the best way to get better at climbing. I'll also use the
campus board
upstairs here at BKB and pull-ups to strengthen my arms.
Favorite wall at BKB?
The cave. You have to think in 3D for this climb. For most climbs your feet are below your head, but in the cave, your feet are often above your head, and this extra element of 3D adds a whole new challenge.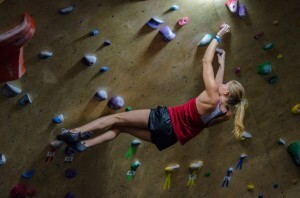 What is your preferred method of climbing?
Bouldering is definitely more my speed. I do sport climbing, but it's not a totally positive experience for me because I'm actually afraid of heights. When you're bouldering you exert yourself 100% of the time on every move. Sport climbing is more about endurance. Sport climbing is like: can you do this move after doing 100 other moves? Bouldering is more like — can you do this move at all?
Wait, you're afraid of heights? What's your advice to others who want to climb but cant get over their fears?
Know your own comfort zone. Know logically what your body can physically handle. If you know what your body can handle, but you're mentally afraid, try taking the scariest fall you can mentally imagine, and then get over it and fall higher. The more you fall, the better you will get at falling. Fear of the unknown is really what makes falling scary.
Why Brooklyn Boulders?
The space is really pretty and the community is awesome. It's a really social sport, especially when bouldering. You spend a lot of time sitting on the floor and chatting with people between climbs. Even with top roping, you still talk to your belayer a bunch. In a lot of other sports, you put headphones in and tune everyone else out.
Indoor or outdoor climbing?
They supplement each other really well. Outdoor is obviously weather dependent, and your fingers get really torn up. Gym climbing is a lot safer, so I like to mix it up.
***
A huge thanks to Sara and our friends at Brooklyn Boulders for chatting with us! To see more awesome pictures of Sara in action, follow her on Instagram @evensara
Want to know more? Did some of the terms Sara tossed off confuse you? Climbers have their own language, so we made a cheat sheet so you can fit right in…
Climbing Lingo
Crag: A steep or rugged cliff or rock face.
Bouldering: A form of rock climbing in which the climber is not connected to ropes or harnesses. When climbing indoors, there are thick mats under the bouldering walls are to break any free fall.
Belayer: The person who stands at the bottom of the wall or rock, attached to the climber by a rope. The belayer must ensure the climber has enough rope by tightening or loosening the reigns based on the climber's needs. The belayer is meant to prevent the climber from falling far distances.
Carabiner: A metal loop with a loaded spring gate to connect climbers to ropes.
Sport climbing:
Top roping: This method of climbing is the most popular. A climber is harnessed into a rope that is anchored by a belayer at the bottom of the wall or mountain. This method of climbing has a predetermined top anchor, or end point of the climb.
Lead climbing: This method is similar to top roping in the sense that a climber is connected by a harness and rope to a belyaer. In lead climbing, there is no pre placed anchor, so the climber will attach to new carabineers that line the wall as he or she reaches them. This type of climbing is less restrictive as there is no set end point.
***
Related: Is Paddle Boarding The Workout For You? We Found Out What's SUP