Move over Wonder Woman, there's a new girl in town! Fashion designer, stylist, entrepreneur, TV personality, wife and mother of two sounds like the backstory of a super hero, right? But it is in fact the real-life story of Heather Thomson. Instead of a cape, Heather sports her own line of fashions and a Withings Activité pop on her wrist. Read on to find out more about the adventures of this leading lady… and find out how you can enter to win some of her signature clothing and her awesome activity tracking watch.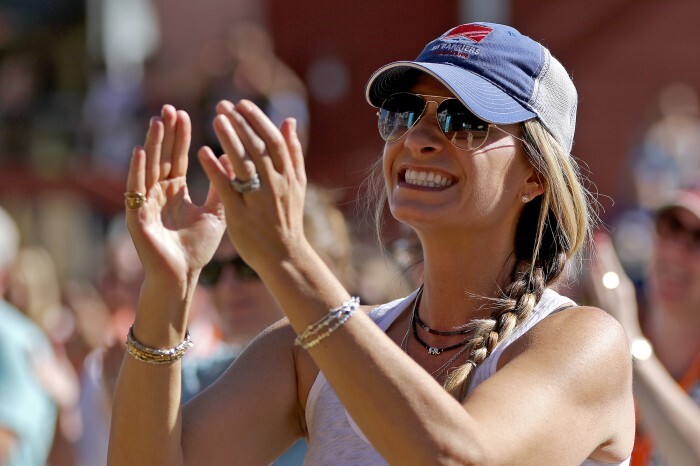 Many fans know Heather, pictured above, as the star for three seasons of Bravo's reality show, The Real Housewives of New York City.  America fell in love with Heather's style on the show, so it's not surprising to learn that she has had a long career helping other stars, including Jennifer Lopez and Beyonce, look their best.  Heather helped create and launch a line of fashion for Sean "Diddy" Combs. She worked as the creative director for the wildly successful label Sean Jean, but after becoming a mother, Heather had an epiphany that led to her current role in fashion design as Founder and CCO of Yummie by Heather Thomson.
When we asked how she got the original idea for her company, Heather explained,  "I started Yummie by Heather Thomson in 2008 from my own selfish initiative.  Like lots of new moms, I was faced with true weight loss issues after childbirth.  And a trip to the shapewear department looking for a boost of confidence changed everything for me.  The garments I found there were anything but confidence-boosting.  They literally were my grandmother's girdles! So I took matters into my own hands, leaned on twenty plus years of design experience, and I invented my original Yummie Tummie patented three-panel tank.  I knew that if I needed that boost of confidence, other women needed it too, and we've never looked back."
Heather continues to create clothes that inspire people to get active.  She told us, "Every new collection I create, I do with today's modern woman in mind. We're always on the go and we need clothes that can offer us versatility and can get us from point A to point B throughout our days seamlessly.  Yummie is a collection of essentials that are meant to be worn together, mixed and matched, and the active collection is yet another initiative in my mission to help keep women looking and feeling their best."

Heather spoke to us about the challenge of balancing career and family, "It's not always easy. While the power of yes is important, the power of no is self-preserving. I feel that multi-tasking is bit over-rated. I try to focus on the task at hand and realize there's really no such thing as the perfect balance for more that a minute or two."
Although Heather lives in New York City during the week, she spends her weekends in the Berkshires where her family has a second home.  Staying active as a family is a priority for Heather.  Exploring the outdoors is their favorite way to get exercise as a family. They ski down the local mountains in the winter and hike up the same mountains in the summer. They also love to bike and boat together.
When it comes to healthy eating, Heather shared that her favorite healthy snacks: hard boiled eggs with hot sauce or sea salt and smashed avocados on sourdough toast. She let us in on what she believes is the secret of sourdough — it doesn't immediately turn into sugar, so that's why it's Heather's bread of choice.  Heather believes, "Eating right is crucial to anyone's busy lifestyle.  Smart health choices are out there.  We just need to make the right ones.  I seek out farm to table restaurants.  I don't eat factory-farmed meats, and I also crave greens.  It's tempting to go for the quick-fix diets but maintaining a healthy lifestyle requires long-term lifestyle changes.  Everyone is individual, and what works for me might not work for you, but setting smart goals will help you make healthier food choices."
Heather also makes time to support others in their efforts to be healthy and overcome seemingly impossible obstacles and personal challenges.  She is the founding board member of the Kellner Pediatric Liver Foundation, dedicated to helping children get lifesaving medical treatment.  She is also an advocate for organ donation, the Tick-Borne Disease Alliance, and an ambassador for the organization No Barriers USA.   Heather explained what she loves and values and about her work with No Barriers USA, " In our hectic lives, we all search for our path forward, our personal road map for overcoming challenges and living a full and purposeful life.  I certainly do.  Being a No Barriers ambassador has helped me more deeply understand and discover the strength within to overcome the challenges I face-the challenges we all inevitably face. The stories of adversity and triumph over incredible odds really permeated with me as a parent of a child with challenges.  Jon and I had already been trying to teach our son Jax a similar lifestyle of optimism even in the midst of struggles. The No Barriers experience not only introduced me to this amazing charity, but perfectly illustrated the reality of what a no barriers lifestyle really is."
Want to experience Yummie by Heather Thomson essentials while forging your own no-barriers lifestyle? Head over to Instagram and enter our contest to win a Yummie by HT outfit of your choice (a top, a sports bra and a bottom!) and a Withings Activité Pop in your favorite color to get you going in style. To enter, simply head to Instagram and follow both @Withings and @YummiebyHT then post a picture of your healthy lifestyle with hashtag #YummieXWithings
Act fast! Our winner will be chosen on February 2nd, 2016.*
*Sorry, the Yummie/Withings IG giveaway is open to US residents only.
***
Want more fresh content? Check out:
Are Bacon & Dirt Good For You?