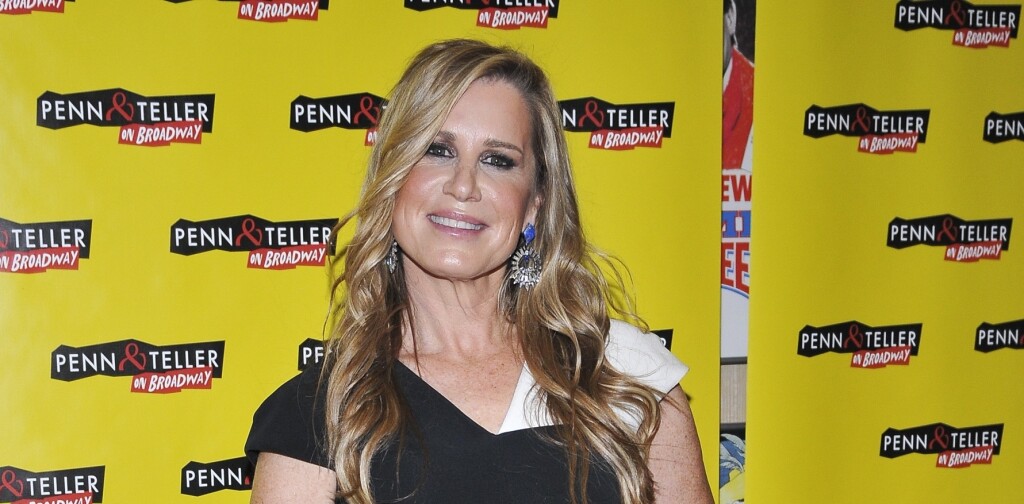 Meet the woman who supports Penn 100% and keeps the Jillette household running on positivity and healthy options for all. If this sounds overly lovey and fawning — it is. Emily is incredibly nice, enthusiastic, and after chatting with her, you kind of can't help but feel like a pal. Read on to get to know her and her particular brand of good vibes now.
Getting Real With Emily Jillette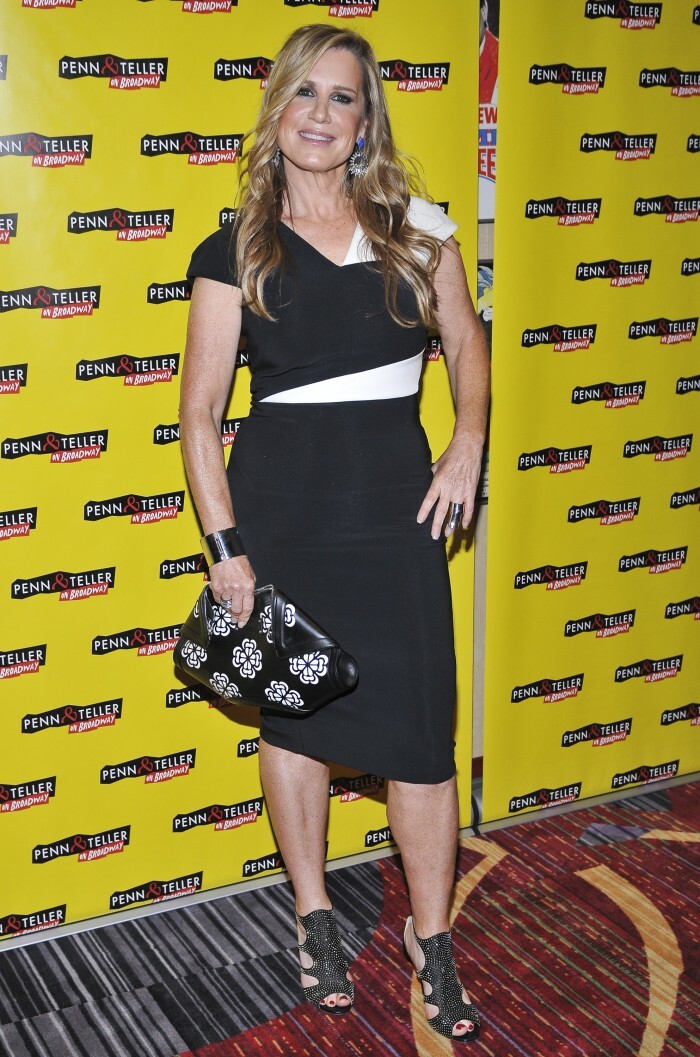 Best of celebrity wives and best of women
Emily Jillette, pictured, has been married to her husband Penn Jillette of Penn & Teller fame for nearly 12 years, and together they have two young children and share a life in Las Vegas, Nevada. Emily is perhaps best known to America for appearing alongside comedian Judy Gold and her partner Elysa Halpern in the least drama-filled episode of Celebrity Wife Swap ever. Of course reality TV isn't real, it's through a serious filter, but the Jillette/Gold episode is unique in that it showed no fighting, no screaming, just some nice caring and sharing. It's kind of how we felt when we talked with her — she is without a doubt a bright light who radiates fearless honesty, positivity and enthusiasm for everything from her family to her love of Lin-Manuel Miranda's Hamilton musical. We chatted with Emily about how she met Penn, her relationship to food, and mainly, what part she has played in Penn's amazing presto chango disappearing-100-pounds act.
Two sexy skeptics walk into a room, diametrically opposed (on food preferences)
Emily Jillette has never had a problem keeping her weight in the healthy digits. Emily needed to drop the usual extra pounds after having two kids, but she's been a vegetarian since she was a teen and naturally craved healthy foods all her life. And she told Withings that any extra pounds that crept on have a sweetly positive source. "Being really happy, you put on a little weight."
Among her biggest sources of happiness – Penn, who she introduced herself to following one of his performances. Clearly, she was looking for a mind at work, and he thought her shared interest in scientific skepticism was sexy. The meat-and-potatoes guy fell for her, but he didn't fall for her plant-eating ways. Emily always cooked healthfully, but she often found herself preparing two meals – a nutritious one and a steak. She and Penn knew he needed to lose weight for the sake of his health and his demanding work, but the choice to change his eating habits for good had to come from him. "Penn works hard. He's in a show that starts at 8 p.m. and he needs the peak of his day to happen at 10:15 p.m.," Emily said. "When he gets out and wants to eat, I'm not there, I don't know what that feels like, and I can't control that."
Non-stop potatoes & tears of joy
When a doc suggested weight loss surgery for Penn, the magician finally decided to make a far-reaching change by following the weight-loss plan created by his pal, scientist Ray Cronise. To support her husband, Emily jumped on board the "Cray-Ray Plan," which begins with two weeks of only eating potatoes to break your taste buds' addiction to salt, fat and sugar, followed by a low-calorie diet of mostly vegetables and fruit. When we asked her what it was like shifting their diet so dramatically, Emily told us, "It was fun. I like science and to watch it work was amazing. I had tears of joy the first time I got to eat something else after the potatoes. It's a cult – we're the potato club."
Using a Withings smart scale enhanced the fun. Emily explained, "Withings was such an integral part and the absolute glue for doing this as a team. We're on split schedules. I wake up and can see his weight. He wakes up and he's seeing mine. I can check on his blood pressure. I'm not saying this to feed Withings' ego, it was a huge part of what made it fun and connected."
On the "Cray-Ray" plan, Penn famously lost more than 100 pounds in three months. Emily lost a few pounds herself and feels fantastic. To maintain their weight, the couple now mostly follow Dr. Joel Fuhrman's Nutritarian diet, which is vegan and focuses on an abundance of vegetables, nuts and fruits.
The benefits of Penn coming over to the light side have been many. Though always a loving, involved dad, his weight made him inactive and playing with the kids often meant gathering around the table. Emily told us, "We used to come to him. Now he runs around with the kids and roughhouses with them and runs up the stairs. There's genuine change. When you take off 105 pounds you can move around without feeling like sh*t every moment."
Satisfied
Emily is a long-time television and theater producer who also donates her time and skills to non-profit groups. But her main passion and favorite gig is running the family Jillette.
Having trained at the culinary school Le Cordon Bleu, Emily has always been a passionate cook, but a pinch of the joy was lost when she was cooking separate meals for Penn. Now she takes great pleasure and pride in cooking meals they can enjoy together. "It opened up the world to me in terms of what I could cook," she said. "I get so excited, I wake up and cook. I love it."
When it comes to their kids – daughter, Moxie CrimeFighter, and son, Zolten – Emily encourages them to expand their palates while also cooking healthy, more kid-centric meals she knows they'll eat. We asked her to describe a typical dinner at the Jillette homestead these days. "Last night I made roasted corn vegetable stew with brown rice and aromatic salad for Penn and I, and for the kids, I made turkey tacos. And we all had corn on the cob. I try to tie it in, but it's never the identical meal. I do have them try all of the food because it's healthier and I do want them to eventually transition to that way of eating as their lifestyle."
With a ringside seat to Penn's weight loss, along with the shrinking weight of a slew of his pals, we asked Emily what advice she had for people making a decision to change their habits for the healthier. She told us, "For weight loss, which is a different phase than weight maintenance, moderation is not your friend. It's a mental decision to change your relationship with eating and you need to fake it 'til you make it. If you're hungry, just push for an hour and don't eat. Then push for another hour. And wait for the right meals. And within a week your body will acclimate and learn the difference between habit and hunger. You can do it. You truly can do it. It's really hard. We all get hangry. But that goes away when you stop feeding the patterns and stop eating sh*t. When you eat well and you're in charge, you will feel energized. It flips and you're excited to get up everyday and you feel great. This body we have, our machine, our temple, or whatever works for you — functions better on good fuel."
***
Thanks to Emily for the chat! Go ahead and follow her on Twitter @EmilyJillette

Susie Felber
Susie is a writer, comedian, and producer who has worked in TV, film, theater, radio, video games, and online. As the daughter of a hard-working M.D., she's had a lifelong interest in health and is currently on a personal mission to "walk the walk" and get her writer's body in better shape.
View all articles