The lucky winner of our Boris Diaw contest tells us all about his trip to San Antonio to see the Spurs in action and hang out with NBA champion and Withings ambassador Boris Diaw.
Hugo Pellerin loves sports, especially basketball, and he aims to have a career connected with sports. So for this 25-year-old, winning the Withings contest to meet NBA champion
Boris Diaw
was a dream come true. Below, check out a video of their meeting, followed by our contest winner's diary of his trip — including the actual steps taken on the journey, of course! — and his thoughts on what it was like to finally meet one of his real-life idols in person.    
Hugo's Diary


 
Thursday – 10 p.m. (342 steps) — Arrive in San Antonio
5922 miles crossed and only 342 steps walked! I arrive in San Antonio with stars in my eyes. This town is gigantic and everything is extra large – big cars, gargantuan burgers, huge buildings. This town is a perfect fit for Boris Diaw's 2m03 (6 feet 8 inches)!
Friday – 1 pm (5534 steps) — Meet Boris Diaw in person!
Knock, knock, knock. My stomach is in knots when I tap on Boris Diaw's door.
I am about to meet a French sports icon. Diaw opens the door and welcomes me into his beautiful villa, with a big smile on his face.
Before I know it I am being served soup by Boris Diaw. What an unbelievable scene! Boris is far from an unapproachable, stand-offish star.; On the contrary, he talks with me like a friend and instantly puts me at ease.
Friday – 9pm (9231 steps) — Playing golf with Diaw
After having dinner with Diaw at his favorite restaurant, he invites me to play golf. This is better than my regular digestive (after-dinner) walk in France! On the golf course, Boris masters his own swing.His advice to me is invaluable and I end up making one point. Final score: 53–1!
Saturday – 7.30 pm (18549 steps) — Courtside seats to see Diaw and the Spurs in action
My incredible journey comes to an end at a high point: a match between the San Antonio Spurs and the Philadelphia 76ers I can honestly tell you I have never experienced such crazy ambience! The team mascot, the crowd, the sounds and lights. It was impressive! Boris Diaw comes onto the court and three minutes later he dominates his opponent to score 2 points. The Spurs win it 92–83


Hugo shares his thoughts about his time with Boris Diaw
Withings: What is the best memory of your time spent with Boris in San Antonio?
Hugo: My best memory with Boris Diaw was in his villa where he invited me to have lunch.. There I realized that speaking with him was not so intimidating. We simply discussed this and that to get to know each other and reach a real understanding.
What stands out to you most about Boris Diaw and his world?
His coolness strikes me. He knows how to mix a calm attitude and dynamism at the same time. He really seems to be a natural leader, even off the basketball court. He seemed like a very accessible, open-minded person who would never be condescending to anybody.
Did you learn anything about his way of life that you want to reproduce in your own life?
Boris Diaw is a worldwide star who is constantly in demand. His rhythm of life is completely crazy (1 game every 2 days) and he's got to be playing at the top of his game. However, he manages to keep a really good balance between his professional and personal life. It is his sense of balance that inspires me and that I want to bring into my own life. I left San Antonio with amazing memories that will always stay with me. Thank you Boris Diaw — and thank you Withings.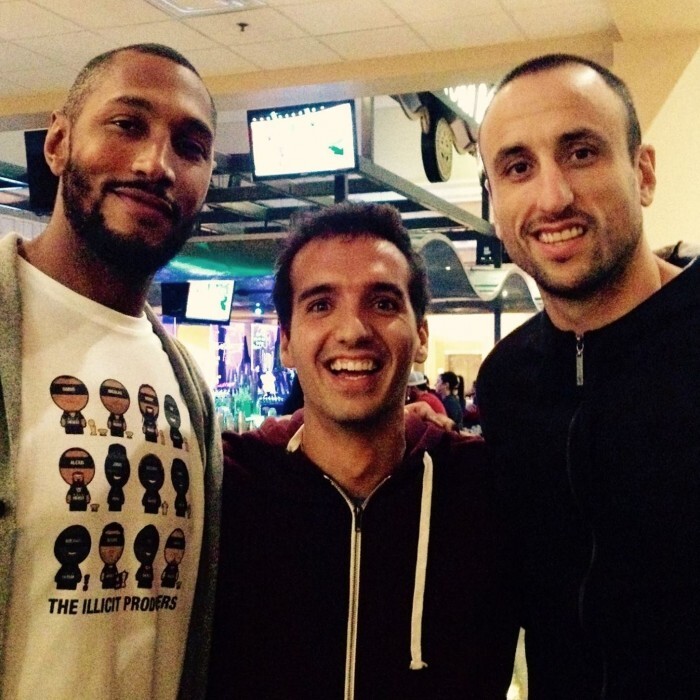 Want even more inspiration? Check out some recent success stories and all our freshest activity and fitness features.