Do major sporting events deprive fans of their sleep? We crunched real activity and sleep data and found out!
Withings has undertaken several studies that have already shown that people usually sleep slightly more in Northern Europe than in Southern Europe. However, people from all countries — regardless of their differences — all closely follow the Euro 2016 football tournament, without regard to the consequences this might have on their sleep. This is especially true in the knockout stages.
The group stage is just a warm-up lap…
Sleep data from Withings users between the first week of competition and the week before it started, shows that most Europeans have managed to combine their beloved football and sleep. The majority of Europeans countries that is, with one exception: Slovakia.
With its 5 million inhabitants, this central European country seems to show their support day and night and it's all down to their national team, who have obtained good results during the competition. During the first week of competition, Slovaks slept on average 50 minutes less per night than usual. No doubt that qualifying for the knockout stages of the Euro championshp for the very first time will galvanise its supporters. Projection: The nights ahead for Slovak supporters look to be short!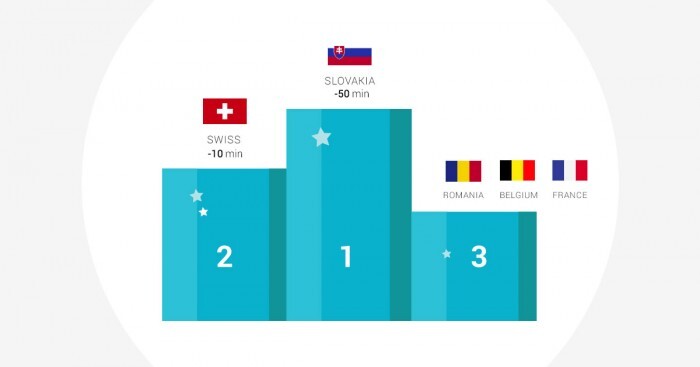 And now for the knockout phase: say hello to some sleepy supporters!
In 2014, on the evening of their victory in the Brazilian World Cup, German supporters went to bed on average an hour later than usual. But this did not prevent them from getting up the next day at the same time as they normally do. In the end, they slept less than 6 hours during this night of celebration.
Last year, North Americans dramatically changed up their evening routine during one of the most exciting Super Bowl finals in history. It was a Sunday evening and residents of cities like New York or Washington went to bed about 40 minutes later than usual thanks to tight games, adrenaline, and probably more than a few super parties. Projection: This will keep Europeans awake during the evenings to come. To be sure, we'll keep our eyes on the (totally anonymous) data coming from Withings activity and sleep trackers, and let you know for sure.
What about you? What do you think your experience of this knockout phase will be? Are you going to celebrate the victories of your team throughout the night or are you more likely to go to sleep with a feeling of a job well done? Let us know!