Just as Ariel dreamt of becoming human, you might be curious to know what it's like to splash around in the water with a mermaid tail. If so, read on to see how a new workout craze can make your underwater dreams come true while getting you into fin-tastic shape.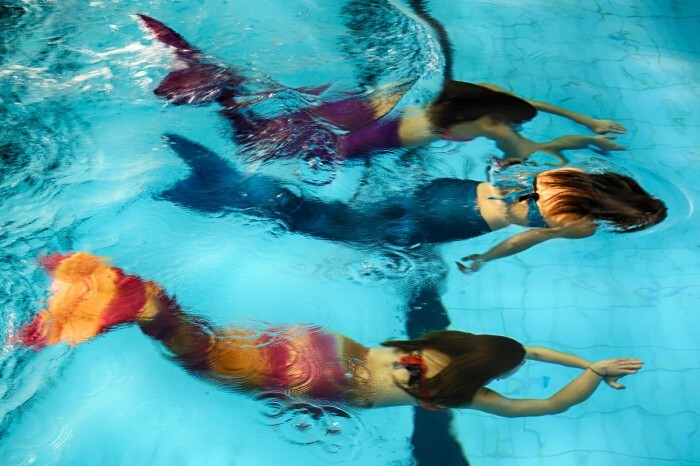 After an underwater photographer asked model Marielle Chartier Henault to put on a mermaid tail fin for a shoot, she discovered that she really didn't want to take it off. She also realized what a great workout wearing a mermaid tail while moving through the water could be. Henault told Withings that the sensation of swimming with a tail or monofin is freeing and feels like flying underwater. She wanted to share that sensation with others, so she combined her passions for swimming, fitness and mermaid magic to create the
AquaMermaid School
.
The school teaches students how to swim with a monofin, and each class begins with a swim test and warm up. FYI to aspiring mermaids — you must be able to swim 10 meters (32 ft.) alone to join the class. Mermaids-in-training then learn the dolphin kick and several synchronized swimming techniques. Finally, students play games and do challenges in the water.
Henault explains that swimming with the mermaid fin gives you a great low-impact core and cardio workout that is gentle on the joints. In addition to engaging your abs, swimming with the monofin works the glutes, back, and arms. The mermaid fin also propels you through the water very quickly so you can swim at top speeds.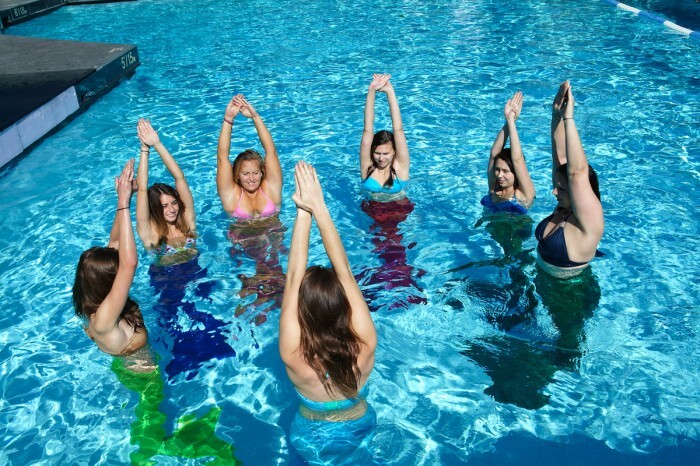 Aside from the physical benefits, Henault adds that "psychologically, it gives you a great boost as well—who wouldn't want to be a strong, powerful, gorgeous mythical creature skimming gracefully through the water? It can be incredible for self esteem." Several AquaMermaid students have described the experience of mermaid swimming as making them feel graceful, sexy, and powerful. For Heanult, it gives her "a sense of peace and power."
Although most of Henault's students are grown women, she also offers classes and parties for children starting at age 7. She even has a handful of mermen in her classes, and on Valentine's Day, she offers a special couples session. If you can swim, the mermaid workout is safe for all ages and sizes, and you can borrow mermaid tails up to adult size 14 or buy a fin online. Right now, you can find AquaMermaid Schools across Canada and the US at various pools, including a variety of luxury resorts and hotels.
If you're tired of all those two-legged land-based fitness options, you might want to try taking your exercise under the sea. Mermaid classes are sure to give your body and your imagination a wonderful workout.