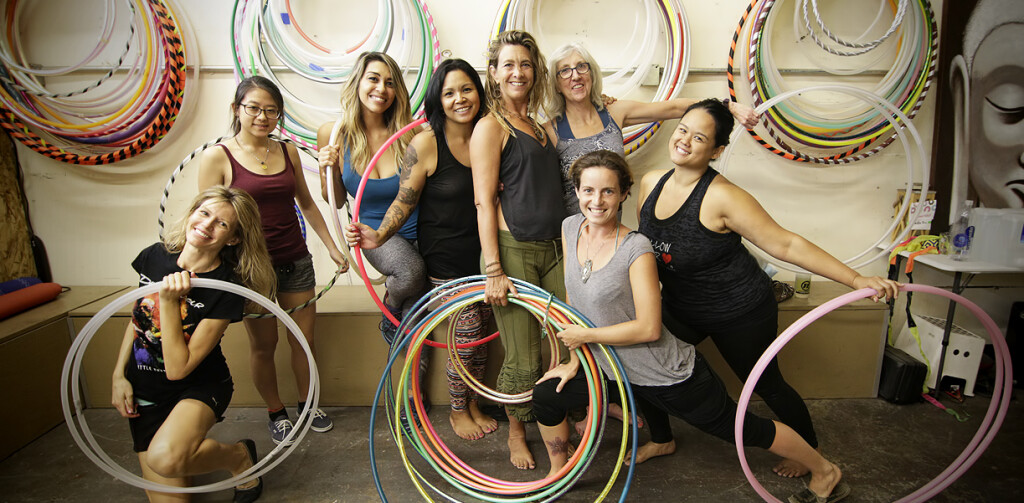 Hula hooping isn't just for kids anymore. In fact, it can be a great workout for those of any age, with the added benefit of being so fun it doesn't even feel like exercise. Superhoopers co-owner Melissa Badamain found hooping at a critical point in her life, and it helped her lose 130 pounds and even find her passion along the way. Read on to discover her inspiring story.
Excited to join in the hula hooping fitness craze, I took a beginners' class from the folks at Superhoopers in Los Angeles. That's where I met Melissa Badamain, my instructor and co-owner of Superhoopers, an Anaheim-based company that teaches hula hoop classes and sells hoops and other supplies to people all over the world.
Not only does Melissa enjoy hula hooping as a fun, effective workout, but she believes that hooping saved her life. In fact, before she found hooping, she weighed in at almost 300 pounds. The only movement that she logged each day was getting up and walking one flight of stairs to get to work, and walking down those stairs to get home.
Melissa had been in 3 different car accidents within a very short period of time and never fully recovered, which caused extreme weight gain. She lived each day in constant pain and struggled with vertigo. Over time these challenges caused her to become antisocial and depressed, but deep down, a part of her was still hopeful.
One day, her friend dragged her out to a concert in Hollywood, and that's where she saw hoop dancing for the first time. Melissa was transfixed. "My eyes were locked on this one girl the entire night. She was hooping so effortlessly, graceful, and oh-so sexy! I could see myself in her."
It took Melissa 5 months before she was ready to commit. Then one day she bought an adult hula hoop online and dove headfirst into hooping. It took her an entire week to learn how to keep the hoop on her waist, but she was immediately hooked. Determined to master this newfound passion, Melissa hooped for 2 hours every day, and up to 4 hours on weekends.
After a while, she noticed that she had more energy. She was sleeping better at night. Her endurance and balance had improved, and most importantly, she was hardly in pain anymore. Melissa started bringing her hoop to work so she could hoop during her lunch hour. Eventually, she got her co-workers involved and started teaching hoop class and making hoops for everyone. Melissa recounts, "For one whole year, I did not miss a beat. I hooped every single day, and when I stopped hooping for even a couple of days, I began to feel muscle spasms in my back and joint pains."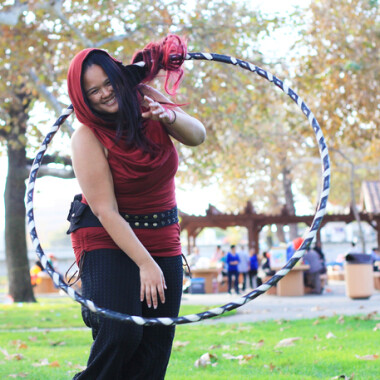 Almost 5 years later, Melissa hoops about 3-4 times a week. She has lost 130 pounds and has the stamina to teach 4-hour long workshops. She has followed her passion and even turned it into a full-time career. In fact, two years ago, she quit her corporate job to run a hoop business out of a warehouse in Anaheim.
Superhooper is now the largest hoop manufacturer in California. They mainly sell hoops online and ship them all around the world, but they recently converted part of their shop into a studio for classes. Not only does Melissa hand-make individual hoops, but she also caters to customers who want to make hoops for resale. Melissa explains, "For those who are open to it, we empower people to make their own hoops, and I'm in the process of creating digital courses to help them turn their hobby into a business."
In addition to running her business, Melissa is a gifted teacher. I witnessed her in action leading a workshop with one of her fantastic fellow Superhooper teachers, Xandra Hobe. In just two hours, they had taught complete novices like me how to keep up traditional hula hoop movements for long stretches of time and pull off all kinds of fun tricks like halos, weaving, passing the hoop around my body, jumping, and even stepping through it. I was surprised at how much fun it was! There was something thrilling about moving with the momentum of the hoop. And watching Melissa and Xandra hoop dance during class was an added bonus, because they were both so hooptastic!
Hula hooping burns up to 400 calories an hour without putting any pressure on the joints, which is a great option for those struggling with injuries or limitations. She explained that to get the most out of a hoop workout, you need a weighted hula hoop around 40 inches in diameter that weighs 1-2 pounds. Superhoopers even sells travel hoops that can be broken down into four pieces for quick assembly and easy storage. The heavier the hoop, the easier it is to keep in motion, and the longer you can keep it going round and round, the better your workout.
On her company's website, Melissa declares, "We make hoops for grownups that tap into people's infinite possibilities, so that they can emerge and radiate their greatness in the world." Melissa is living proof that if you believe in your potential to do amazing things, you can discover your passions and make your dreams come true.

Jeanne Simpson
Jeanne is an actress, choreographer, and dance teacher in Los Angeles. Some of her favorite acting credits include roles on the PBS kids series Wishbone, AMC's Mad Men and NBC's Parks and Recreation. She has also choreographed a wide variety of projects for television and theater. When she's not running around on a set or stage, Jeanne is at home in LA enjoying time with family.
View all articles