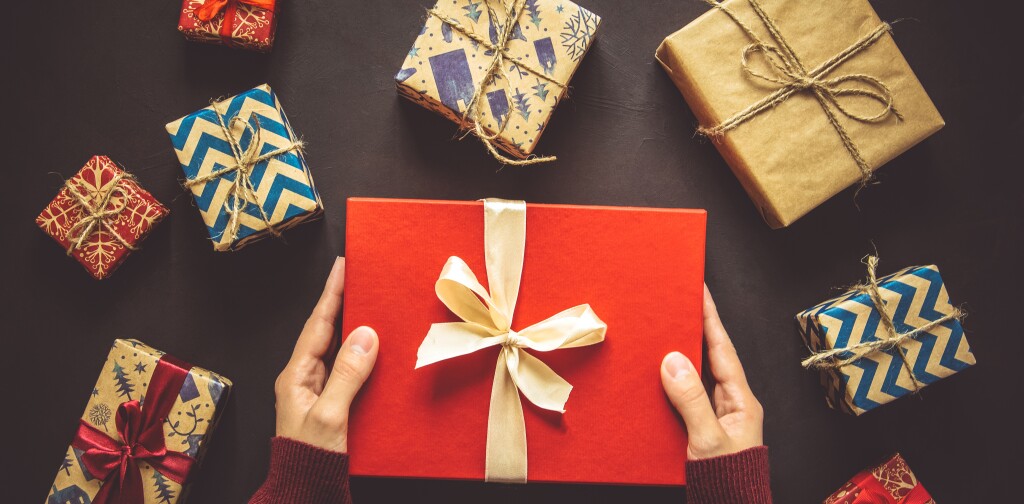 December is all about celebrating friends, family, and the holidays—the perfect time to show you care with the gift that keeps on giving: good health.
So, how exactly can you give health? After all, no one wants to find a bouquet of broccoli florets wrapped up under the Christmas tree. Instead, gift your loved ones with the tools, resources, or support they need to make changes that bring about better health and make the process fun, too!
Getting healthy is not always easy, but it can be immensely rewarding. That's why we've pulled together a gift guide that will help you share the health and knock out your holiday shopping all at once.
1. Make a healthy coupon book
This might sound like the ultimate cliché of a "cheap" gift, but hear us out. Health-themed coupons could be extremely helpful for someone who may struggle to find the motivation to exercise or get healthy alone. In your coupon book, you can include pledges to go to the gym with the recipient, to go running or hiking, or even host healthy cooking extravaganzas over the course of the year. Even a coupon to get coffee and listen to the struggles they may be having—is powerful stuff. Providing support and accountability can be more valuable than even the most expensive gift.
If you're the artistic type, you can get creative with your coupon book. Or, if you shouldn't ever be allowed to wield scissors and a glue stick at the same time, a quick google search brings up hundreds of coupon books that can be purchased and personalized for your gifting needs.
2. Sign you and your pal up for a fun run
It's pretty common to give concert tickets as a gift, as they provide a special experience and a chance to make great memories. Tickets to a rock concert are great, but why stop there when you could sign you and your loved one up to be chased by the living dead instead? From Zombie Runs to Turkey Trots, there are plenty of ways to get your jog on without hitting the track or the treadmill, and for someone who's not a fan of exercise, giving them a goal and the lure of a fun race-day could be just the ticket to getting them started.
Plus, if you are a reasonably fit person, exercising alongside a friend may help inspire them to work harder. According to research published in the Journal of Social Sciences, people tend to "gravitate towards the behavior[s] of those around them." In other words, jogging alongside someone with a higher fitness level can help those with a lower fitness levels have a more positive outcome.
3. Give a healthy cookbook
For some of us, exercise isn't a problem—but eating is. Staying healthy is about more than just staying active. It requires a balance, and for many people the root of the problem lies with food, not with being sedentary. If you know someone who just can't seem to step away from the comfort food, providing them with a cookbook full of healthy alternatives to their favorite meals could be a big help in their journey towards a healthier lifestyle.
Alternatively, if you have a loved one who consistently orders take-out because they don't feel comfortable cooking, finding a healthy cookbook for beginners—and walking them through a few of the recipes—could be a great way to alleviate their kitchen jitters.
4. Sign them up for a yoga, meditation or massage session
When it comes to staying healthy, we often forget that mental health is just as important as physical fitness, and around the holidays, it's especially easy to get stressed out and frazzled. If you know someone who could benefit from taking a breather, consider buying them a yoga or meditation class, or even book a trip to the spa together. According to Harvard Health, yoga can help decrease heart rate and blood pressure by "reducing perceived stress and anxiety," while meditation "can help ease Psychological stresses like anxiety, depression, and pain." When all you want is a few scented candles, relaxing music, and a deep foot rub, a trip to the spa can make for the perfect soothing outing.
5. Give a gadget—a Nokia gadget
We're most definitely biased here, but we think that a Nokia device is the perfect gift for that special someone looking for a health boost. From stylish activity trackers to smart scales, connected blood pressure monitors and more, Nokia has something for everyone. Plus, all devices automatically sync to a free smartphone app, making it effortless to monitor progress and track changes over time.
And you don't have to just take our word for it! Harvard Health's top suggestion for giving the gift of health this year is to "look for gadgets or services that get people moving."
Whether you plan to participate, or just encourage through your gift giving, nothing says, "I care about you," quite so much as providing loved ones with options for living a healthier life. So, get out your glue sticks, lace up your sneakers, or grab your yoga mat, and get ready to share the health!

Annelise Driscoll
Annelise is a graduate of Hamilton College who enjoys writing, reading and roller derby. When she isn't noveling, she can be found doing yoga and watching British baking shows.
View all articles